Q - How do I sign up to play with Blueballs?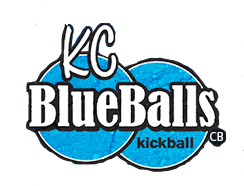 A - Signups are done individually! Your captain can register a team first by clicking the REGISTER TEAMS button or you can click on the the REGISTER ONLINE button on the right side of the page and go through that process. After payment, you will be asked what team you would like to play on. If your captain is slacking then you can just type your team's name, and I will place you on the right team within 48 hours.
Q - I'm having trouble finding enough players! Can you help me fill my team?
A - Of course. Our league is very popular, and there are always players who are looking for a team! We will find you players or merge your team with another team we feel would fit well with yours!
Q - I don't have a team to play on...can I still play?
A - OF COURSE! We will find you a team to play on, and if there is enough demand we will place you on our "House Team" which is a mix of randos who come together for an enjoyable weekend.
BLUEBALLS FAQs
Q - Adults really play kickball....in Kansas City?!?!
A - YES! Our league has been operating since 2010. We bring everyone's favorite recess game back to the streets of Kansas City!
Q - Why should we play with Blueballs?
A - Great question.  We are operated locally and not by an overseer! WE also provide a preseason captain's party, post season party for ALL teams, a league bar, custom t-shirts(name and number), and we allow you to drink at the fields on Sundays!
Q - Do you have Sponsors?
A - We have companies that we partner with for out t-shirts, bars, and beer!
Q - Does your league work with any charities?
A - YES! At KC Blueballs we believe that working with our community is important. As such we work with as many charities as we can! This year we are working with - Save, Inc, KC YVCA, and AIDS WALK! We do this by donating money, hosting charity tournaments, and fundraisers!
Q - How old do you have to be to play?
A - For insurance reasons we require all players to be 18 on the day of the first game of that season.
Q - We are allowed to drink and play?
A - If you are 21 years old then we will be there drinking with you (DRINK RESPONSIBLY)
Q - Where do you play?
A - We play at Rosedale Park in Kansas City, Kansas! 
Q - We get custom t-shirts?
A - YES! We order our t-shirts through Printing Resolution in Kansas City! This is included in your fees. WE DO NOT charge extra for shirts!
Q - How much does it cost to play in your league?
A - It cost $50-65 depending on your sign-up date(the earlier the better!)  This covers all the free parties we throw, t-shirts, field rental, and officials.
Q- Do you provide officials?
A - We do use officials. Some leagues make your ref your own games AND report your own scores.  We've played in sports leagues like this...No thanks! We also provide you with line-up sheets and score sheets.
Q - How many players do we need for a team?
A - We require 12 players (2 females minimum). We highly recommend 14-20 players to avoid forfeits.

Q - How do we know when registration opens?
A - Great question! Join our email list, add our facebook, twitter, instagram, and check our website regularly!
Q - What size kickballs do you use?
A - We use a 10" kickball from Underdog Kickball!